The Waters of Star Lake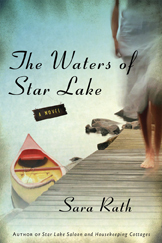 Sara Rath continues her popular Northwoods saga in this affirming and often humorous tale of romance, betrayal, and danger.



Natalie Waters visits her family's cottage in Wisconsin's northwoods and gets involved in an adventure with Ginger and others at the Star Lake Saloon. Wolves! Bears! Gangsters!
~ ~ ~
Newly widowed Natalie Waters expects only nostalgia and solitude at her quiet, rustic cabin. But the wilderness conceals more than one perilous mystery. Where in Wisconsin's Northwoods did the notorious gangster John Dillinger hide $210,000 following a violent FBI shootout? And why do the local timberwolves incite so much rage among Natalie's neighbors?
As predators circle and howl in the dark, Ginger, the bartender at the nearby Star Lake Saloon, draws Natalie deep into the secrets not only of Dillinger but of the ecologies of family, forest, and heart. With the reluctant support of her granddaughter and advice from a handsome wolf biologist, Natalie is forced to choose between adversity and adventure.
"Enormously readable. The audience that enjoyed Star Lake Saloon will come back for more, and those who start this novel will want to enjoy the first one. Visiting the North as Sara Rath recreates it is a welcome treat."
—Jim Fleming, reader for "Chapter a Day" on Wisconsin Public Radio
"With the patient skill of an engaging storyteller, Sara Rath brings to life the charm of northern Wisconsin. The appreciative reader is soon breathing in balsam and pine, living in a primitive cabin next to the lake, listening to loons, finding unlikely romance, encountering wolves, bears, a lively group of endearing local personalities, and searching for the legendary buried treasure of John Dillinger and his infamous gang of hoodlums. So pour a cup of coffee, find an unoccupied sofa and head into the Northwoods with The Waters of Star Lake."
—David Rhodes, author of Driftless
REVIEW - PUBLISHERS WEEKLY (May 7, 2012) "Rath returns to the setting of her first novel, Star Lake Saloon and Housekeeping Cottages (2005), for her pleasant third novel. Soon after recently widowed Natalie Waters Lindquist arrives at her family cabin in rural northern Wisconsin, an attack on her beloved dog, Molly, places her at the center of rising local tensions over hunting and conservation. After being roped by feisty Ginger Kovalcik into a hunt for a gangster's lost treasure, Natalie's summer is further complicated by the unexpected arrival of her troubled granddaughter, Minnow. Romantic possibilities emerge in hunky but secretive Bud Foster and handsome ecologist Will Davis. But a more compelling passion is Natalie's fierce devotion to her family's old home. Adventure takes Natalie and her eccentric companions from a roadkill picnic to a notorious gangster hideout, from a pristine morning lake to a rowdy bar called the Last Resort. The result is an affectionate portrait of this distinct region and its quirky inhabitants. "
REVIEW in Madison's Capital Times 26 April 2012:
Local Author's Latest Takes us Back to the North Woods
The chained lakes of northern Wisconsin have a way of surprising visitors with their scale and complexity. You can put your boat in what looks like a smallish body of water only to find that concealed in the trees is a channel to another lake, which is connected to still another. It's no wonder Wisconsin author Sara Rath finds them such a compelling setting for her work.
Her popular 2006 novel, "Star Lake Saloon and Housekeeping Cottages," followed Madisonian Hannah Swann up north after the unexpected inheritance of a rundown lakeside resort from an estranged relative. The unexpected allure and transformative power of Wisconsin's wilder, less-populated territories serve once more as the backdrop for Rath's latest, "The Waters of Star Lake."
"Waters" is a sequel — of sorts — to "Star Lake Saloon," preserving the setting of its predecessor but adding a cast of new faces while bringing some of "Saloon's" familiar side characters to center stage.
Rath met me for coffee at a cozy coffee spot in Spring Green, where she lives with her husband and beloved pets, to talk about the new book, her writing process, and the inspiration for her novels. She's a dyed-in-the-wool Wisconsinite, born in Manawa, in Waupaca County, to parents whose backgrounds could not be more typical of the region if you made them up.
"Lumber and cheese," says Rath. "I am deeply Wisconsin." While her extended family is "pretty scattered," the cabin her grandfather built north of Mercer still serves as their vacation spot and gathering place as well as the model for the cabin in "The Waters of Star Lake."
"It's so isolated and off the grid," says Rath of her family cabin, located on the Fisher chain of lakes. "It just never went on the grid. You have to take everything with you. We didn't have a road until maybe 10 years ago. We would have to load everything in a boat and go across two lakes to get there."
This highly rustic setting is a contrast to the more touristy lodge featured in "Star Lake Saloon," but the resort and its colorful cast of characters are only a short boat trip away for Natalie Waters, the titular protagonist of its sequel. But while "Waters" brings back several memorable characters from its literary forebear, Rath "wanted it to be able to stand alone. I tend not to like those books where I pick something up and I'm supposed to take it for granted that I know all the stuff that's happened before, and I feel left out."
As "Saloon" centered its action around a controversial mining project, "Waters" enmeshes its characters' lives with those of Star Lake's nonhuman inhabitants — namely its wolves and bears. When Natalie's dog is attacked by a wolf outside her cabin, she finds herself drawn into a local controversy over the animals, whose population has been rebounding after decades of endangerment from human predation and development.
Rath's interest in the wolves was sparked by their reappearance near her own cabin. "You go to bed fairly early, because it gets dark," recounts Rath. "Turn off the light, and we could hear the loons. And then all of a sudden we heard a wolf howl, and then we heard another wolf join it."
Rath's subsequent research into the local pack caused her to place the intersection between Wisconsin's wildlife and its residents at the heart of "Waters." After Natalie Waters' dog is wounded, she is placed firmly at the center of a local controversy that pits Star Lake's hunting population and tourist industry against its environmentalists and animal lovers.
Rath herself is a passionate dog lover (companion canines play a significant role in both of her lake-set novels), and speaks of the wolves with a mix of affection and awe. During our interview, she shows me a plaster cast of a wolf's paw print from her local pack, given to her by the Timber Wolf Alliance of Manitowish Waters. It's a memento she describes as "a treasure," and its enormous size is impressive. "They're not overly large," says Rath, "but they've got really big paws."
But "Waters" is, at bottom, an engaging read about a woman juggling family (a troubled niece is foisted on her for the summer), memories of her deceased husband, new romance and the foibles of her friends. Ginger, who readers of "Saloon" will recall as the irrepressible bartender who serves as a salty-mouthed Oscar Wilde of the north woods with her endless supply of sassy remarks, returns to spearhead a treasure hunt for John Dillinger's legendary stash of loot.
"Waters of Star Lake" is coming out just in time to stick in your duffel bag for your own trip up north this summer, but even if you've never been outside of Wisconsin's big cities, Rath hopes her writing provides an entertaining and illuminating window into the unique nature of life on Wisconsin's remote lakes and the priceless natural resources there. "This is a huge state," says Rath. "You get up to Hurley and Ironwood and Lake Superior, and it is a foreign country. That's (something) I try to express. It's beautiful, and it's right there."
Read more: http://host.madison.com/ct/entertainment/arts_and_theatre/books/local-author-s-latest-takes-us-back-to-the-north/article_6a0b9cac-8f24-11e1-bf93-0019bb2963f4.html#ixzz1tG60739F

Discussion Questions for
THE WATERS OF STAR LAKE
• What would you find most difficult about vacationing in an isolated, rustic northwoods cabin like the quaint family retreat where Natalie plans to spend her summer?
• Since this book was published, Wisconsin has instituted a hunting season on wolves. What's your opinion on this matter? Do you think dogs should be used to track wolves? The season extends into February – what about killing pregnant females? (Is my bias showing…?)
• Bud Foster is a complex, complicated character. Are his motives toward Natalie sincere or suspect?
• A lot of "evidence" seems to document Dillinger's buried treasure near Little Bohemia. The area has been thoroughly searched and continues to be. Do you think it exists?
• What would you do if you encountered a wolf in the wild? (Hint: Don't run).
• Regarding Natalie's acceptance of Minnow's visit -- should she have made a greater effort to welcome her granddaughter?
• Do you think Natalie and Will Davis will stay together? Why or why not?
• Would you accept an invitation to a Road Kill Picnic? What you find appealing on the buffet? What's the strangest wild food you've ever eaten?
• Did you realize how bears were hunted in Wisconsin before reading this true account?
• What should the women do with the buried treasure they found?